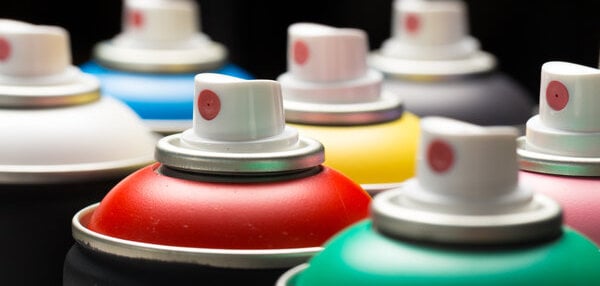 When you think of aerosol paint, you may think of the spray paint cans you buy from the hardware store, but industrial aerosol paint is different. Industrial aerosol paint is highly durable and provides protection against corrosion, abrasion, and rust. Industrial aerosol paint application requires a level of technical skill that goes beyond traditional spray painting.
Our Capabilities

Click to Expand
Aexcel offers a selection of general-purpose and rust-preventative aerosol spray paints and primers to fit any purpose. Our products range from professional solutions to art and hobby applications. Our paints and primers are designed to overcome texture, flexibility, and chemical resistance challenges. Batch sizes can range from 50 Gallons up to 2,000 Gallons and packaged in cans, gallons, 5-gallon pails, drums, or even totes.
Industrial Aerosol Paints
Specialty aerosol paints are high-quality, fast-drying solutions formulated for virtually any application. Our specialty paints are compatible with many different surfaces, including appliances, propane tanks, and patio furniture. We offer specialty paints for the following industries and applications:
Appliance paint
Farm and implement paint
Patio furniture paint
High heat BBQ
Fluorescent paint
Propane tank paint
Snow spray
Professional Aerosol Paints
Our professional line of aerosol paints com in solvent- or water-based products formulas suitable for indoor and outdoor use. Some of the most common applications for professional paints include utility locators, pavement and sports field striping, and livestock inventory. Our professional line of paints includes:
Striping paint
Marking paint
Log marking
Livestock marking
Field marking paint
Decorative Aerosol Paints
Decorative aerosol paints add stunning finishes to your surfaces. Easy application and fast drying times allow you to complete your project in less time. We provide a full range of decorative aerosol paints suited for all types of surfaces, including wood, stone, plastic, glass, and metal. Our decorative aerosol paint selection includes:
Metallic
Frosted glass
Hammered
Marble
Speckle
Stone
Art and Hobby Aerosol Spray Paints
We offer a range of finishes and application tools with our art and hobby spray paints to help artists fulfill their creative visions. Our paint products can be applied to many different surfaces, including metal, brick, wood, concrete, and more. Our art and hobby paint line features:
Matte finishes
Glossy finishes
Custom tips and spray angles
Indoor and outdoor products
---
Custom Formulation & Color Matching Capabilities
We provide custom aerosol paints formulated to your specific performance requirements and product needs that can be packaged in a spray can and made accessible to your customer base. At Aexcel we provide up-to-date technical, regulatory and market knowledge for all our clients.
Our expert formulators will guide you through the custom-formulation process, so you achieve a guaranteed a match to your desired color, sheen, or texture. We are capable of customizing a range of coating types, including metallic, textured coatings, stains, translucent topcoats, opaque coats, and more. We use our spectrophotometers to analyze paint chips to attain an exact match. Our goal is to formulate a product that offers the specific performance properties you need at a competitive price.
Contact Our Experts for Tailored Industrial Aerosol Solutions
As a leading provider of aerosol spray paint products, our processes adhere to federal and state VOC regulations to guarantee high performance and quality. Aexcel can partner with you to deliver tailored industrial aerosol solutions that meet your specific needs.
We provide continuous one-part factory and marketing support from formulation to final product. Because all our products are made in the USA, you are guaranteed consistent quality and a simplified supply chain that reduces lead time while eliminating costly disruptions.
No matter your application, you can rest assured that we have an aerosol solution to fit it. Contact us today to request a quote.