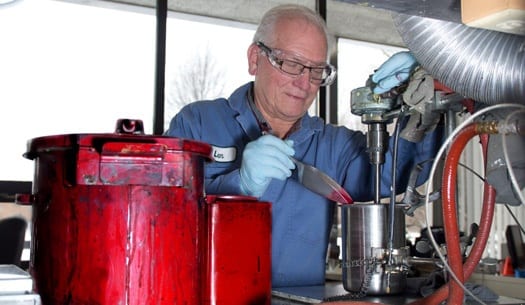 Aexcel's expert formulators will work with you to formulate a custom coating to achieve the application, appearance, and performance properties you need. We focus on your desired application process and when developing your coating, which allows for optimal output and easy application on your coating line. Our attentive service and production expertise ensure:
Expert Coatings Recommendations: After developing an understanding of your manufacturing processes and your product's end-use application, we draw on our 50-plus years of coatings experience to quickly recommend and develop a coating that will fit seamlessly into your production line and provide the performance and appearance required.

Aexcel has formulated and manufactured thousands of custom industrial coatings, using a variety of coating chemistries that adhere to and perform on even the most troublesome substrates. Our chemists are experienced with all types of resin systems, cure mechanisms, and application methods. We're ready to develop a custom coating to meet your color, gloss, flexibility, heat resistance, chemical resistance, abrasion resistance, and other specifications.

Technical Support: Creating a coating that's tailored to meet your exact needs is only the beginning of what we do. Following the formulation process, you'll have a direct line to the professional who helped develop your custom coating should you need technical support. As your manufacturing processes change, our formulators will ensure your custom coating continues fit perfectly into these processes and can work to alter your existing formula to accommodate changes in manufacturing requirements.

Our dedicated quality control center ensures every batch is in compliance with your color and performance specifications. We often work with our customers to develop personalized quality control mechanisms for their coatings. If you're looking for a coatings partner that provides attentive, flexible service, look no further than Aexcel.

On-Time Delivery: Aexcel understands the time-sensitive nature of your requests. We work with our suppliers to ensure on-time delivery of your raw materials, which guarantees on-time production. Once your materials are on-site, our flexible production and filling capabilities allow for optimal efficiency and minimal lead times.
---
Your material. Your process. Your end-use application. We use all three factors, plus our expertise, to create the perfect high-performance custom coating.
Substrates: Aluminum, steel, treated steel, galvanized steel, primed surfaces, bronze, wood, concrete, asphalt, plastics, and paperboard
Chemistries: 1k and 2k urethane, 1k and 2k polyurethane, alkyd, epoxy, vinyl, and acrylic
Properties: Color, gloss, durability, flexibility, color retention, formability, and VOC/environmental considerations
---