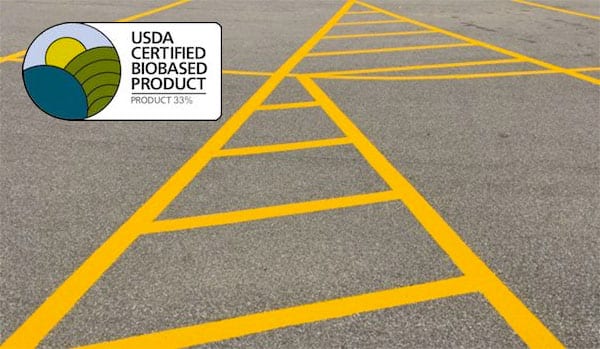 Did you know that much of the traffic paint on our roads and parking lots is not eco-friendly? Conventional marking and striping paint contains toxic chemicals that can be harmful to the atmosphere and surrounding areas. As a solution to this environmental concern, Aexcel Corporation formulated BioStripe® as an eco-friendly alternative. Learn more about this soy-based paint, its many benefits, and its applications both on and off the roads.
BioStripe®: The Only Sustainable Waterborne Alkyd Traffic Paint
BioStripe® delivers premium performance from a sustainable source. Using the oil from over 420 pounds of soybeans per 100 gallons of paint, BioStripe® is the world's first soy alkyd, latex striping and marking traffic paint.
Benefits of Using BioStripe® Eco-Friendly Paint
Our environmentally safe paint contains renewable, natural materials, which makes it safe for roads as well as surrounding water supplies and the people applying it. We've designed our products to withstand the wear and tear of traffic and harsh weather conditions, remaining highly visible for optimal safety.
This sustainable paint displays:
Excellent durability and chemical resistance
Superior dirt repellency and color retention — stays brighter longer
Low VOCs (<85 g/L) and no ammonia odor
Quick, easy application—compatible with standard line-striping equipment
Good performance on all types of pavement
Excellent shelf life for extended storage
Colorful options in white, yellow, blue, red, black, and bike path green
BioStripe® is ideal for any municipality or organization wishing to expand its sustainability initiatives with our high-performance product.
Common Applications
Today, BioStripe® eco-paint is on roads and highways, parking lots, and bike paths at environmentally conscious locales nationwide. You'll find it in parks or at hospitals, universities, military installations, and more.
Available Products:
We offer the following waterborne alkyd paints:
Understanding Low VOC Traffic Paint
Low VOC paint has very low levels of volatile organic compounds (VOCs), which are chemicals that release into the air as you apply paint and as it dries. Higher levels can cause various health problems, including headaches, dizziness, eye and respiratory irritation, or even cancer for those who handle these paints regularly. Low VOC paint contains fewer VOCs than traditional traffic paint, making it a safer option for workers and the ozone layer. Given the known detrimental effects that high VOC levels can have on the atmosphere, the Environmental Protection Agency (EPA) has been focusing more attention in recent years on VOC reduction.
Why Choose Less-Toxic/Eco-Friendly Traffic Paint?
Bio-based or soy-based paints have several advantages over traditional petroleum-based varieties beyond their low VOC content. Using environmentally friendly paint demonstrates your organization's commitment to sustainability and allows you to reduce your carbon footprint. Also, due to its unique formulation, BioStripe® dries harder and is more dirt-repellent than solvent-based paints. As a result, you won't have to repaint frequently, saving on material and labor costs. You can even use the same equipment to apply this high-performance paint that you've used for conventional paints, necessitating no additional equipment investments.
Asphalt Art
BioStripe® also has an attractive aesthetic. In 2021, we assisted with a large-scale public art project in Fairbanks, Alaska. The Tanana Valley Watershed Association (TVWA) worked with artists ranging from professionals to children to create colorful murals on the streets and sidewalks around storm drains. We supplied our product in numerous custom colors, which the participants used to create vibrant and educational murals promoting environmental awareness on waste streams and the Yukon and Chena Rivers. The TVWA chose Aexcel's BioStripe® for being a USDA-certified bio-based traffic paint.
As another example, Aexcel was proud to be a part of Colorado State University's Ram Walk project. Community members, campus staff, and students alike worked together to paint the asphalt strip that leads to the university's sports stadium. The mural spelled out "stalwart," with the designs within the letters demonstrating CSU spirit. BioStripe® helped participants create a beautiful and, more importantly, lasting mural that will resist heavy foot traffic, weather, and dirt for years to come.
Contact Aexcel for Premium Traffic-Marking Paint Solutions
Eco-friendly traffic paint is a great way to help the environment while ensuring that our roads and highways are safe. At Aexcel, we engineer our traffic paints for optimum results in even the harshest of environmental conditions. We draw from over five decades of experience in our field in creating more than 500 custom product formulations for distribution across the U.S. The Aexcel team strives to create lasting partnerships with our clients, supporting you with the expertise and superior customer service you need to address your challenging paint and coating applications.
Contact us today for more information, or request a quote to begin your next sustainable traffic project.