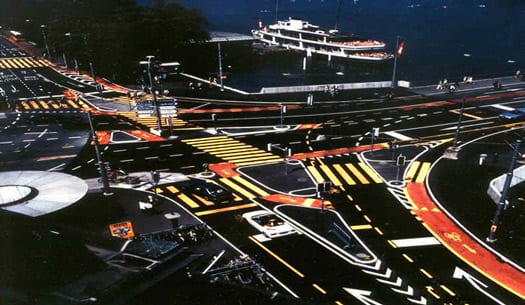 At Aexcel, we've engineered our traffic paints for superior performance in the most demanding environments. You can find our paints on roadways and parking lots from Alaska to Florida—and just about anywhere in between. We've built a diverse customer base that relies upon our wide variety of waterborne and solvent-based high-grade traffic paints for their most challenging applications.
Most of our specialty traffic paints and eco-friendly traffic paints have evolved from custom formulations and product development for our long-standing customers. In this piece, we will highlight the selection of traffic paints that Aexcel has to offer.
What is Solvent-Based Traffic Paint?
Solvent-based paints, commonly called oil-based paints or oil paints, are composed of numerous chemicals that become solvent with each other when mixed. All solvent-based paint contains some form of organic or petroleum oil, but line striping and traffic paints favor petroleum-based oils. When the oil combines with the other chemicals in the paint mixture, it becomes solvent and creates the final paint product.
Solvent-based traffic paint repels water when wet. Cleaning up solvent paints requires the use of specialized solvent thinners such as toluene or mineral spirits. However, this property also allows users to apply solvent-based traffic paint in high-humidity conditions. Municipal crews and construction firms often prefer solvent-based traffic paint for painting roads and parking lots in colder climates because the oil in the paint won't freeze in cold temperatures.
What is Waterborne Traffic Paint?
Waterborne paints are a common alternative to solvent-based paints. Also commonly known as latex or acrylic paints, waterborne paints are composed of synthetic resins and pigments dispersed in water by surfactants. Their volatile organic compound (VOC) content is much lower than that of solvent-based paints, making waterborne traffic paint the eco-friendlier choice.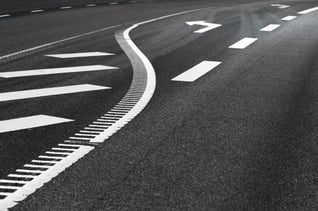 Waterborne paint dries as the water within the paint mixture evaporates. Of note, water-based paint is not solvent-free. Small amounts of solvents in the mix allow the latex or acrylic resin to coalesce and fuse as the water disappears. Once the water has completely evaporated, waterborne traffic paint dries into a durable coating.
Since the mixture contains water, waterborne paint must be stored and used at temperatures above 50°F. Waterborne traffic paint is poorly suited to cold-weather applications because the water within the mixture will not evaporate properly in cold or freezing temperatures.
Traffic & Zone Marking Paint Solutions with Aexcel Corporation
At Aexcel, we have a wide range of high-performance traffic paint products to suit any need.
Roadzilla® Methyl-Methacrylate (MMA) Two-Component Traffic Marking System
With a unique blend of high-quality polymers, Roadzilla MMA provides superior durability in some of the harshest environments and is currently outperforming everything on the road. For over 20 years, builders across Europe and Canada have chosen MMA traffic paint to reduce restriping in high-traffic areas such as roads and intersections. Roadzilla is the ideal choice for durable area markings that are less susceptible to wear and tear from traffic and snowplows.
Original Gorilla High-Performance Solvent-Borne Acrylic Zone Marking Paint
Gorilla traffic paint holds up in areas where conventional parking lot paints would fade due to high traffic levels. Gorilla paint improves the longevity of lines and markings in areas such as parking lots, crosswalks, airports, and stop bars. Gorilla traffic paint features easy application and quick drying.
ToughLine® High-Performance Low VOC Solvent-Borne Acrylic Traffic Paint
Our experts at Aexcel developed ToughLine in response to new VOC restrictions that eliminated many solvent-based options and caused a significant disruption within the traffic paint sector. Without alternative paint options that were both eco-friendly and durable, municipalities turned to lower-performance traffic paint options. This shift led to higher costs and additional disruptions when roads and parking lots required much more frequent restriping and repainting.
We responded to our customers' needs by creating ToughLine, which has since proven itself as one of the most durable low-VOC traffic paint options available. This product offers an ideal solution for contractors working in VOC-restricted areas due to its combination of longevity and dirt-pickup resistance.
Low VOC Acetone Acrylic Copolymer Traffic Paint
This versatile option has a VOC content of less than 100 g/l, ensuring that it adheres to the strictest VOC regulations. It provides exceptional performance in high-traffic areas such as airports, roadways, and parking lots. To provide enhanced reflectivity for safer night driving, it is also possible to apply glass beads to the liquid paint. Thanks to its quick-drying formula, low-VOC acetone acrylic traffic paint maintains its appearance and reduces tracking.
High-Performance Chlorinated Rubber Zone Marking Paint
Chlorinated rubber traffic paint is highly durable, dries quickly, and performs well on many pavement types. This paint's biggest strength is its color retention, making it an excellent choice for areas that tend to bleach in the sun. At Aexcel, we offer a wide range of chlorinated rubber paints for any application.
High-Performance Alkyd Traffic Paint
Our alkyd traffic paints have been standard for many years. We formulate them with the highest quality raw materials to ensure their longevity. These traffic paints also have excellent color retention properties on asphalt and concrete.
LaneLite® High-Performance Low VOC Polyester Traffic Paint
Our LaneLite high-performance polyester traffic paints boast a two-component, field-reactive formulation that is ideal for long-line projects. While many other polyester traffic paints cause handling, storage, and application problems, we have eliminated these issues using a non-hazardous catalyst.
Achieve Your Goals with Aexcel Corporation
What Aexcel offers goes far beyond innovative traffic marking products. For over 50 years, our attentive customer service and on-time production and deliveries have helped drive results for many customers. This combination of high-performance products, timely production, and personalized customer support has set us apart from our competition in the traffic and zone-marking paint industry. If you prefer a true partner rather than a standard vendor, you will do well to select Aexcel as your traffic paint supplier.
Whether you're a traffic paint distributor looking to serve your marketplace better, a municipality hoping to restripe your roads and parking lots with less frequency, or a striping contractor aiming to minimize paint failures and rework, Aexcel is ready to help you achieve your goals. To learn more about our traffic paint offerings, please contact us today.