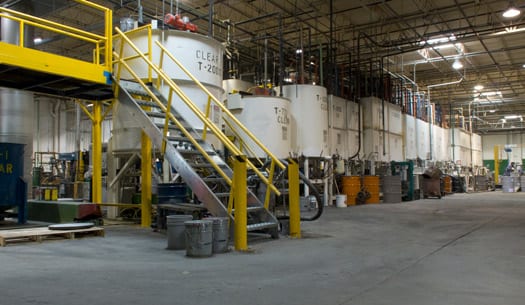 Aexcel is ready to manufacture and package your paint and coatings formulas in our 70,000-square-foot facility. Our toll paint manufacturing partners turn to Aexcel for a variety of reasons. Manufacturing paint is a resource-intensive process, and many of our customers feel their resources are better spent on sales and development while Aexcel tackles the supply chain, regulatory, and logistical headaches that come along with paint production. We've manufactured thousands of batches of water based and solvent based coatings for our tolling partners under confidential contractual agreements. Count on Aexcel to produce your paints while you focus on growing your business.
Our tolling capabilities include:
Batch Sizes: Range from 25 to 8,000 gallons
Filling: We can fill by volume and by weight with semiautomatic and manual filling equipment; capacities include 1-gallon singles, 5-gallon plastic and steel pails, 30- and 55-gallon steel drums, 250- to 300-gallon IBC tanks, and bulk tank wagons
Solvent Handling: A bulk solvent storage capacity of 54,000 gallons in above-ground storage tanks, with 10,000 gallons being the largest individual tank size.
Mill Sizes: Upright and horizontal mills ranging from 3 gallons to 40 liters
Color Matching: Expert color-matching staff and state-of-the-art equipment enable Aexcel to meet and match strict customer color specifications
Resin Storage: Bulk storage up to 125,000 gallons. Smaller quantities handled in drums and totes.
Lead Times: Generally, two weeks or less
Workforce: Experienced and dedicated staff; a significant portion of our staff has been making paint for over a decade, some for 30-plus years
Toll paint manufacturing with Aexcel offers a variety of benefits including:
Raw Material Savings: We've been manufacturing paint for over fifty years from a diverse array of chemistries. Our current customer base serves OEM, industrial, and architectural markets among others. We are often already purchasing some, if not all the raw materials necessary in our toll manufacturing partners' formulas. This allows us to combine purchases and minimize your raw material costs.
Paint Manufacturing Expertise: Whether you're working through capacity constraints or having trouble manufacturing a new product, partnering with the right toll paint manufacturer can help. Taking too long to optimize your paint production can drive up costs in the form of blown batches and inefficiency. You can trust Aexcel to take your formula from a test batch to full-scale paint production on time.
Environmental Concerns: Paint manufacturing processes are covered by a laundry list of environmental costs and regulations including EPA air permits for equipment and hazardous waste disposal fees. Obtaining appropriate permits and gathering requisite information for reporting can be a costly, time-consuming process. Relying on an experienced paint manufacturing partner like Aexcel to deal with these hassles will allow you to focus on growing your business.
Whether you're an established company looking to offload capacity constraints, an international company hoping to bring production to the United States, or an entrepreneur looking to produce paint without the capital expense associated with opening up your own facility, Aexcel is the tolling partner you can count on.