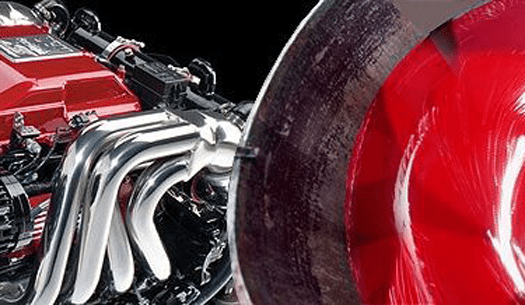 What Are Industrial Coatings?
Industrial coatings offer superior protection from chemicals and corrosion, which is why they're common in many industrial applications. The reason for their high resistance to wear and tear is their polymer construction.
Some examples of industrial coatings include polymer coatings for food processing equipment along with steel pipes and fasteners. They also use different coating formulations depending on each application's needs. Some of the materials used for custom coatings solutions include epoxy, urethane, polyurethane, and fluoropolymer.
Types of Industrial Coatings
Based on the specifications for a particular application, industrial coatings could consist of different types of coating formulations, including:
Polyurethane coatings: Custom coatings solutions using polyurethane protect components from oxidation resulting from high levels of heat. They also protect against water, acid, and other types of corrosive substances.
Epoxy coatings: Steel applications often use epoxy coatings for protection against abrasion, corrosion, and weathering.
Alkyd coatings: Custom coatings made with alkyd protect parts in underwater, interior, exterior, and underground environments.
Zinc-rich coatings: Coatings made with zinc form a galvanic polymeric layer that provides added protection against corrosion for steel components.
Acrylic coatings: Architectural and automotive parts often use acrylic coatings because of their high-gloss and corrosion-resistance properties.
Metalized coatings: Zinc and aluminum alloys form high-quality coatings that allow for fast curing, long service life, and the avoidance of volatile organic compounds (VOCs).
Teflon coatings: Teflon offers reliable dielectric stability along with chemical inertness, a low friction coefficient, and high heat resistance.
Polyvinylidene difluoride (PVDF) coatings: For applications requiring high resistance to corrosion along with high purity and strength, PVDF is an ideal coating material.
Polytetrafluoroethylene (PTFE) coatings: These coatings comprise two non-stick coatings consisting of a topcoat over a primer. The result is a low friction coefficient and high resistance to heat, chemicals, and abrasion.
PPS and Ryton coatings: PPS and Ryton offer high resistance to thermal degradation and chemicals.
Powder coatings: These coatings don't require any additional solvent to connect components as they are dry and free-flowing.
Nitro coatings: Nitro is a material that protects from galling and extreme temperatures while increasing surface hardness.
Molybdenum coatings: These coatings improve material performance to increase the friction coefficient, load carrying capacity, and operating temperature.
Fluoropolymer coatings: In addition to high resistance to corrosion and chemicals, fluoropolymer lends superior resistance to galling, abrasion, and electricity along with reduced friction, non-wetting, and non-stick properties.
Fluorinated ethylene propylene (FEP) coatings: FEP coatings are chemically inert, non-stick, and non-porous with a low friction coefficient.
Excalibur coatings: Excalibur coatings consist of a complete coating system that makes this material different from other materials. It's durable, highly resistant to wear, and functions as a long-lasting, non-stick coating.
Epoxy thermal cure coating: Specially blended epoxy thermal cure coatings feature a high molecular weight that culminates in high corrosion resistance in potentially harsh environments.
Ethylene and chlorotrifluoroethylene (ECTFE) coatings: These types of coatings offer high electrical, thermal, and chemical resistance.
Benefits of Industrial Coatings
Industrial coatings provide several key benefits, including:
Waterproof materials
Reduced costs
The prevention of rotting
The prevention of discoloration
UV damage resistance
Salt damage resistance
Minimized breakdowns
Increased safety from added protection reducing the risk of malfunctions
Improved temperature control
Higher home and resale value
An added barrier against vapor and air
Materials Used for Industrial Coatings
You may use a wide variety of materials in custom coatings, such as:
Polymers
Epoxy
Polyurethane
Moisture-cured urethane
Fluoropolymer
Applications of Industrial Coatings
The following are some of the most common applications for custom coatings solutions:
Building materials such as engineering roofing, decking systems, and architectural supplies
Industrial machinery and walking surfaces
Canning, plastics, containers, and other consumer packaging
Columns
Valves
Reactors
Agitators
Water reservoirs
Piping
Pressure filters
Standpipes
Level gauges
Baffles
Shop-built tanks
Patio furniture
Rims and wheels
Iron fencing
Penstock
Field-constructed tanks
Pressure vessels
Automotive frames
Hydro pipelines
Casing
Industrial Coating Techniques
Applications may use different coating techniques depending on the materials and specifications involved:
Dip coating: This process involves dipping components into liquid polymers that adhere to the underlying substrate.
Brushing: Brushes with synthetic or natural bristles apply multiple coats to different types of surfaces.
Roll coating: Rollers use roller covers and frames to apply coatings over flat surfaces.
Spraying: Spray guns and other equipment spray liquid coatings to create uniform finishes.
Spin coating: Centrifugal force at high speed distributes coatings over a substrate from its center.
Flow coating: Applications with flat horizontal sheets use flow coating to apply liquid coatings manually or automatically.
Custom Industrial Coatings from Aexcel
Custom coatings provide additional protection for many types of components, maximizing their longevity and reliability.
If you require high-quality industrial coatings, turn to Aexcel. We provide everything from topcoats such as polyurethane, acrylic, and urethane to various types of primers and specialty coatings.
Contact us today to learn more about our industrial coating products and capabilities.