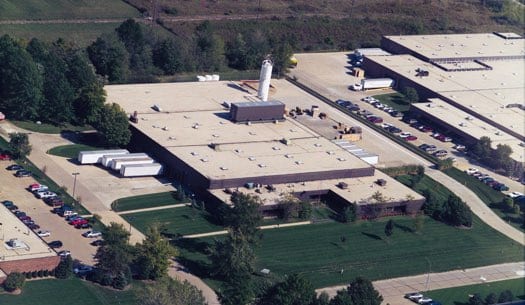 The Early Years & Quick Success
Aexcel Corporation began as DeSantis Coatings, and was founded by Erminio and Vincent DeSantis in 1963. The company started with three people, one high-speed mixer, a 10,000-square-foot facility, and no customers. But over the next half-century, we underwent quite the transformation.
We began bidding on traffic paint contracts for state, county, and city use. In 1964, we successfully bid to supply 600,000 gallons to the State of Ohio. That contract, along with other small bids and accounts, laid the runway for our growth.
Over the next several years, we began offering less seasonal products, so we added maintenance and industrial coatings to our product offering. Bridge and structural steel paints soon followed. By 1968, a 10,000-square-foot addition was made to the plant in order to accommodate our growth and expanded product offering. Erminio DeSantis died in 1969.
Perseverance & Success During Challenging Economic Times
The 1973 oil embargo made raw materials so scarce that we nearly defaulted on a number of contracts. The embargo could not have hit at a worse time, as we were already in the process of adding 30,000 square feet to our facility, including a new office and laboratory. Vincent DeSantis passed away in 1973.
In 1974, Aexcel came under new ownership and a new management team was established, led by Joseph B. Milgram Jr., a chemical engineer and businessman with a penchant for growing emerging technologies into new businesses in the chemical industry. Over the next several years, the organization brought in new people, products, and technologies. This resulted in steady growth for the company—which could also be attributed to our reputation of fairly dealing with vendors and customers in the industry. Our willingness to work with new technologies made us a preferred partner for raw material suppliers looking to commercialize their latest and greatest innovations.
Inflation in the U.S. economy, especially in the petrochemical industry, made the late '70s and early '80s extremely difficult for us. The "Rust Belt Recession" squeezed many manufacturers—our customers—out of the marketplace. However, we sustained our growth due to the innovative management practices and strong sense of teamwork that were built into our company culture.
A Shift in Focus Establishes Aexcel as the Trusted High-Performance Coatings Supplier
In the mid '80s, we shifted our focus to value-adding, high-performance coatings. Our Uthane® proprietary polyurethane coatings took off during the late '80s and early '90s. During this time, you could find our products coated with our polyurethanes at many retailers serving a wide range of industries.
In 1988, we adopted a new name, Aexcel Corporation, to reflect our positive and progressive outlook. We began marketing and developing our original product line—traffic paints—more vigorously, and this was met with positive results. Specifically, we recognized that waterborne traffic paints would be the future of the industry as we moved into more environmentally conscious times. At the same time, we began building our distributor network, partnering with trusted traffic paint retailers.
In 1989, we moved into a brand-new 70,000-square-foot facility situated on eight acres in Mentor, Ohio. We designed the new plant with the latest concepts of efficiency, safety, productivity, and environmental consciousness in mind. A short time later, we had to add a large warehouse to accommodate the rapid growth we were experiencing—our sales more than doubled between 1986 and 1993.
John S. Milgram was appointed president in 1993. Around that time, powder coatings entered the marketplace in direct competition with our Uthane polyurethane coatings. Despite considerable product improvement and innovation, much of our Uthane business was devastated by powder coatings. In response, we shifted our focus to new markets and continued to innovate the Uthane technology to meet new demands.
Traffic Paint, Overcoming More Challenges, & Yet Another Shift in Focus
During the late '90s, we strengthened our position in the traffic paint industry. Our reputation for quality, integrity, and service became well known across the industry, and this culminated in 1997 when the Indiana Department of Transportation purchased 603,000 gallons of traffic paint, which we delivered on time without hassle. This type of on-time, no-hassle service was a rarity for them, especially with such a large order.
The recession following the dot-com bubble had severe repercussions in Ohio, and we certainly felt them in our marketplace. Customers of our customers were filing for bankruptcy, and, as a result, some of our products were eliminated. Competition in traffic paint was heating up and prices were being slashed across the board in response to large companies attempting to increase market share. Organizationally, we went through a difficult restructuring that cut our labor force back to its 1987 size. We understood that the coatings world had changed, and we would either have to change with it or disappear.
Aexcel moved forward with a strategy that focused on our core products, best customers, and most-valued vendor relationships. We joined Guild CPO, the industry-leading cooperative. We placed major emphasis on improving quality and delivering on-time, in-full shipments. This enhanced attention to service was rewarded with extra business and referrals. At the same time, several product innovations were successfully brought to market, most notably our Roadzilla® methyl-methacrylate (MMA) two-component traffic marking system. This highly durable product allowed us to penetrate new markets, such as Alaska, where it's still used extensively due to its ability to withstand heavy abuse from frequent snowplowing.
Dedicated to Our Clients & the Future
Since 2010, Aexcel has been on a steady growth track despite overall economic uncertainty and constant consolidation in the coatings industry. We're dedicated to remaining independent through continuous innovation and outstanding customer service.
We're also constantly working on turning new ideas into products. Recently, we've successfully developed BioStripe® traffic paints and BioSealcoat®. These products are sustainable, environmentally conscious alternatives to traditional traffic marking paint and sealcoat. Formulated with soybean oil, they're the only products in their respective industry recognized as USDA Certified Biobased under the USDA's BioPreferred® Program. This certification is a result of the high quantity of biobased material in each product's formulation.
To further our customer service initiative, we continuously invest in leading management information systems. This allows us to capture real-time data for every aspect of our organization. In turn, we're able to optimize our production planning, which maximizes the probability of our "on-time, in-full" delivery.
Management is dedicated to the values put in place by our chairman emeritus, Joseph B. Milgram, Jr., which call for fair, progressive, and honest dealings with all. We're working hard to remain independent in this competitive and consolidating marketplace, and we recognize the key to this objective is keeping our customers satisfied.
Aexcel looks forward to another 50 years of innovation, camaraderie, and service.