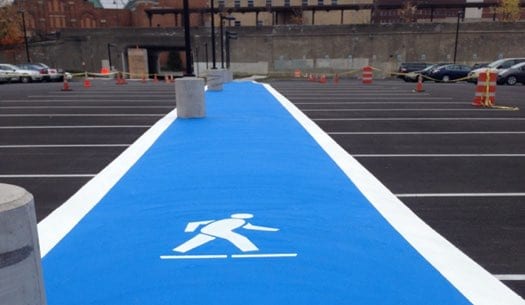 At a Glance
Supreme durability: applications have lasted as long as eight years
Dries Fast: 15-30 minutes
Two Component System
Ideal for snowplow traffic, intersections, crosswalks, stop bars, and high-traffic areas
DOT Approvals: Alaska, California, Nevada, Oregon, Washington
Tested and proven worldwide
Why the Roadzilla® Methyl-Methacrylate (MMA) Two-Component Traffic Marking System?
This high-performance MMA traffic paint is outperforming everything on the road. If you're tired of the paint on your area markings, roads, intersections, and other high-traffic areas being torn apart by snow plows and heavy traffic, consider Roadzilla. This two-component methyl-methacrylate system uses a blend of quality polymers to offer superior durability in even the harshest environments. MMA has been used for over 20 years in Canada and all over Europe to provide long-lasting safety while minimizing restriping.
In America, you can find our Roadzilla in some of the most challenging environments, including Alaska and much of the Pacific Northwest. These areas rely on methyl-methacrylate traffic marking systems to stand up to the constant beating roads and parking lots take from snowplows.
Are you tired of repainting your area markings and roads every few years? Contact us for more information on how our Roadzilla MMA traffic marking system can provide a solution to your most demanding traffic and area marking needs.
Available Products: