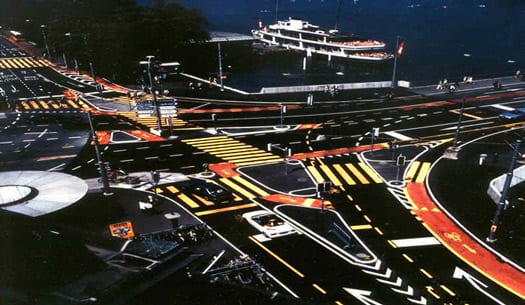 We've been formulating and manufacturing high-performance traffic and zone marking paints for over 60 years. Our formulating expertise and commitment to innovation allow our products to continuously evolve with our customers' needs. We offer a wide assortment of state-of-the-art traffic paint products, accommodating any combination of application, regulatory, and performance specifications. Explore our high-performance traffic paint products to see which is best suited for your needs.
Roadzilla® Methyl-Methacrylate (MMA)
Roadzilla® Methyl-Methacrylate (MMA) from Aexcel Corporation is a high-performance MMA traffic marking paint that combines a mix of quality polymers to deliver excellent durability. Inlaying the MMA coating into the pavement's surface allows durability when exposed to snowplow traffic and harsh environmental conditions like those in the Pacific Northwest and Alaska. Drying in 15 to 30 minutes, this two-component product is ideal for crosswalks, intersections, stop bars, roadways, and other high-traffic locations. This product is available in a wide array of colors and has received DOT approval in Alaska, Washington, Oregon, California, and Nevada. Learn More
Gorilla High-Performance Parking Lot Paint
These solvent-borne, single-component acrylic coatings offer long-lasting performance. Easy to apply, quick-dry Gorilla paint is a rapid and versatile solution for creating lines on any pavement type. Available in black, white, yellow, red, and blue, this paint has high color retention and durability to increase the time between restriping applications in locations like parking lots, airports, crosswalks, and more. It's also highly successful at repelling dirt to retain its clean appearance. Our Gorilla products are available in waterborne paint formulations, as well. Learn More
ToughLine® High-Performance Low VOC Solvent-Borne Acrylic Traffic Paint
Federal and state restrictions on volatile organic compounds (VOCs) in traffic paints have forced some municipalities to use subpar products that necessitate more frequent applications. To help clients comply with VOC regulations while still using a durable product, Aexcel created its ToughLine® traffic paint. With less than 100 g/L of VOCs, ToughLine offers the best durability of all our low-VOC traffic paints. It dries in as little as 15 minutes, repels dirt, and is an optimal choice for parking lots, roadways, and auxiliary markings. Our Toughline paint comes in black, white, yellow, red, blue, and bike path green. Learn More
Low VOC Acetone Acrylic Traffic Paint
If you're looking for a lasting paint that's applicable for anything from parking lots and roads to airports in locales with VOC restrictions, our low VOC acetone acrylic traffic paint is an optimal choice. Like our Toughline paints, this also boasts a low VOC content of under 100 g/L, all while delivering excellent performance on all pavement types. It comes ready to spray without requiring thinning and dries in less than 10 minutes. The paint comes in all our standard colors, and adding glass beads improves reflectivity for better visibility at night. This acetone acrylic paint meets Federal Specification A-A-2886B Type II. Learn More
High-Performance Chlorinated Rubber Zone Marking Paint
This paint is formulated using chlorinated rubber and provides both superior durability and adhesion on an array of pavements. This zone marking paint is quick to dry, and it is available in all our standard colors. As for VOCs, it contains less than 450 g/L. These paints also comply with the federal performance standards for:
AASHTO M-248 Types F and N
TT-P 115E Type III
GSA A-A-2886B
Learn More
Alkyd Traffic Paint
Our Regular Dry Alkyd traffic paint has been a staple in widespread traffic applications for years. It's available in our five standard colors and meets performance requirements for federal specifications as follows:
AASHTO M-248 Type S
TT-P-85E
TT-P-115 Type I
LaneLite® High-Performance Low VOC Polyester Traffic Paint
Aexcel's two-component LaneLite® polyester traffic paint is formulated for long-line projects. The paint leverages its field-reactive, catalyst-based formulation to address common issues in handling, applying, and storing polyester paints for traffic applications. It's available in white and yellow, with a low VOC content of less than 100 g/L. Learn More
Traffic Paint Products by Aexcel
It takes high-quality traffic paint to withstand harsh weather conditions, UV exposure, and more on highly traveled roadways and parking lots without fading or rapid deterioration. Durable products reduce the need for frequent repainting, saving on both maintenance and paint costs.
Aexcel has been producing innovative, high-performance traffic marking paints in the coatings industry for 60 years. We're dedicated to product development, quality control, and unsurpassed customer service. To best serve you, we offer products ranging from traffic paints and seal coats to industrial coatings as well as capabilities for custom formulations, private labeling, and more. Whether you're looking to enhance the performance and durability of your traffic markings or need to meet VOC requirements, you can count on Aexcel traffic paint to meet your needs. Contact us today.