Benefits of Custom Coating Formulations
In the manufacturing industry, creating and delivering a new product necessitates considerable strategizing when it comes to shape, size, weight, materials, manufacturing processes, and aesthetics. As the global manufacturing supply chain gets increasingly competitive, planning out every small component of the overall product design is crucial for those that want to stay lean and competitive.
While a product's coating may seem like an afterthought, the chosen coating can make a profound difference in the end product and overall product usability. With custom coating formulations, coating solutions can be precisely formulated to create the exact functional and aesthetic properties required. Unique coatings may be needed to adhere to specific industry standards, handle more extreme environmental or operating conditions, or create a more aesthetically pleasing finished part.
At Aexcel, our industry-leading custom coating formulation capabilities help customers improve their value-per-part and reduce frustrations on their coating line. When formulating custom coatings, we always consider:
Substrates, including aluminum, bronze, steel, plastics, and wood
Chemistries, including acrylic, epoxy, vinyl, and 1k and 2k urethane/polyurethane
Properties, such as formability, gloss, flexibility, and color
Why Use Custom Coating Formulations?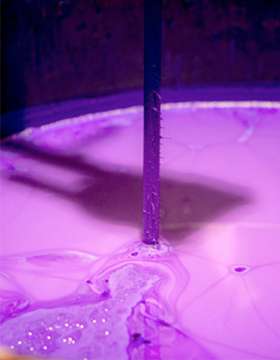 The value of custom coating formulations extends across a plethora of product factors, such as appearance, performance, and cost. In addition to providing a high quality finish that improves the look and feel of a product, custom coating formulations offer several product and production benefits. These benefits can be remembered with a simple acronym—ICECAP.
Impact on Manufacturing
Off-the-shelf coating products, while convenient, can cause you to hit snags in your production line. The modern manufacturing production cycle is constantly evolving. As lean operating models and increased customer demands continue to saturate the manufacturing industry, finding ways to improve production line throughput is more important than ever.
Is your paint line creating friction in your production line? Do you need faster coating production? With custom coating fabrications, unique coating blends can be designed to improve throughput and reduce painting pain points.
Cost
When calculating the price of the coating, it can be tempting to boil everything down to the ticket price. However, there are hundreds of unique data points that should be considered before the price tag. For example, how will the coating improve your production line throughput? Will the coating improve the value of your product by enhancing aesthetic or functional qualities? Does the coating adhere to unique environmental concerns that echo back to your bottom line?
With custom coating fabrication, you can create a solution that meets all of those data points—not just the basic ticket price. The result is comprehensive cost savings that extend throughout your manufacturing supply chain.
Environment
Whether you're trying to meet specific environmental compliance concerns or you're catering to an increasingly environmentally conscious consumer base, reducing energy and waste throughout your product line may be front-of-mind for your business. With custom coating solutions, you can formulate solutions that meet your exact environmental needs.
Customer Support
Custom coating solutions provide an incredible layer of customer support that goes far beyond basic chatbots. Since you're already in communication with chemists who are developing a one-of-a-kind coating solution for your business, you can bring up any questions, concerns, or comments with them directly.
Appearance & Behavior
As custom coating formulations give you the ability to precisely manipulate coating conditions, you can choose the exact color, flexibility, and gloss that you want. This customizability provides you with the ability to control product conditions meticulously.
Product Performance
Coatings provide a degree of protection to end products against the stresses of use. Whether you need high performance parts or your parts are operating in harsh environments, custom coating formulations can be leveraged to give your products superior protection and coating durability.
Custom Coating Formulations From Aexcel Corporation
For over five decades, Aexcel Corporation has been at the forefront of custom coating formulation, toll manufacturing, and private labeling. By partnering with us for their custom coating needs, customers benefit from our:
Intellectual curiosity, which drives our development of innovative coating solutions
Relationships with industry-leading raw material suppliers, which facilitate the creation of new paint and coating technologies
Commitment to strong customer relationships, which results in unequaled customer and technical support
Emphasis on employee happiness, which leads to excellent retention rates for experienced employees
Altogether, these qualities of our company have culminated in the invention of 500 custom coating formulations for use in a wide range of industries, including agriculture, flooring, and electronics. From topcoats, primers, and 2-component systems to ecofriendly asphalt sealcoat and traffic paint, we have the experience, resources, and mindset to help you create a custom coating formulation that works for your unique product needs.
Contact Aexcel for Your Custom Coating Needs
At Aexcel Corporation, our custom coating formulation services can help you improve your existing end product and open windows of opportunity for new products. We can produce high quality coatings and paints (including traffic paints) that meet the toughest industry and environmental conditions.
We formulate each custom coating solution to each customer's unique needs, including:
Lowering energy consumption
Increasing output
Improving efficiency
Reducing waste from reworks
Meeting environmental regulations
To learn more about our custom formulation capabilities, check out our capabilities page. If you're ready to improve your overall manufacturing capabilities with our custom coating formulation, contact us today.