10 Green College Campuses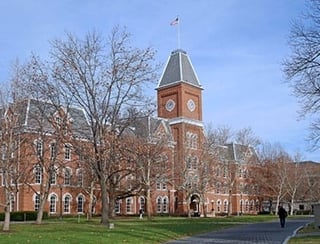 Colleges and universities are often on the leading edge of social and environmental initiatives. Today sustainability is a major area of focus on campuses and many breakthroughs have burst forth from all around the country.
Many universities have been recognized by such organizations as US News and World Reports, Soy Council, Princeton Review and even Popular Mechanics for commitment to sustainability. Here are 10 examples where sustainability has become a priority:
College of the Atlantic (Bar Harbor, ME)
The mission of this small northeastern university reflects full commitment to sustainability and protecting the environment. Every student is enrolled in the field of Human Ecology or peoples' interaction with the planet. In 2007, the COA was designated carbon neutral. Each student is committed to conservation and preservation.
Stanford University (Stanford, CA)
Stanford has allocated over $900 million to sustainable research, emissions-reduction, and energy efficient programs. The recycling program, which has received awards from the EPA, diverts 65% of their solid waste to recycle and compost. Stanford also provides free campus bus service powered by diesel-electric buses.
Ohio State University (Columbus, OH)
Besides the all-out program to reduce solid waste at Ohio Stadium football games and many other projects, Ohio State has implemented a soy oil-based paint to trial stripe some of their 36,000 on-campus parking spaces. Ohio State also trialed the product at one of their specialty campus facilities. The product, BioStripe®, is the first soy-based paint to be used for this purpose and will replace the previous petroleum-based products. BioStripe® is environmentally positive and will contribute to the overall sustainability of the planet.
Lewis and Clark College (Portland, OR)
Lewis and Clark administrators and student body mandated that all of its buildings be LEED-certified. In addition, electricity for the college is generated only by "green" power sources. Students are encouraged to bicycle everywhere by utilizing L&C's Student Bike Sharing program funded by the campus "Green Fee Program."
Ithaca College (Ithaca, NY)
This upstate New York college was the first to earn the campus-wide LEED Platinum rating. Ithaca's Park Center for Business and Sustainable Enterprise was opened in 2008 offering solid education and research into the disciplines of ecology and sustainability. Not surprisingly, the Center building features a roof garden that is sustained by rainwater runoff.
University of California (Santa Barbara, CA)
Bren Hall, which houses UC Santa Barbara's School of Environmental Science and Management, was built mainly from recycled materials and features solar panels for energy. Bren Hall was the first single university building to earn two LEED Platinum designations.
University of New Hampshire (Durham, NH)
According to U.S. News, UNH is the first major university to create an actual landfill gas- to-energy pipeline. Named EcoLine, this fuel source actually generates enough power to provide 85% of the campus needs for heat and electricity.
Arizona State University (Tempe, AZ)
Arizona State initiated its own School of Sustainability in 2007 and awarded the first sustainability undergraduate degrees in the nation. ASU features a number of sustainable projects that include recycled flooring, wind turbines atop the buildings and water-efficient plumbing fixtures.
Willamette University (Willamette, OR)
Willamette has developed a "4-E" program, Education, Environment, Equity and Economics, to define their sustainability programs. Students participate in a wide range of programs including one on their own 305-acre Zena Forest property that allows them to experiment on various phases of forest sustainability.
University of Maryland (College Park, MD)
The Sustainability minor program is the most popular minor at the University of Maryland College Park. Students in this program also major in a wide range of disciplines, thus allowing them to apply their sustainability learnings to fields of manufacturing, medicine, law, construction and others.
Do you have knowledge of sustainability programs happening on other campuses? Please share your "green" intelligence with us in the comments below.