6 Ways to Save on Parking Lot Maintenance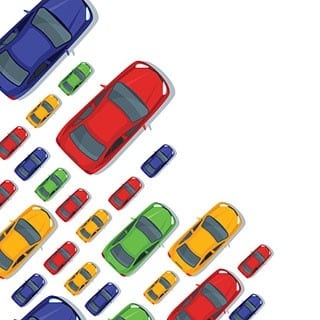 Without preventative care, asphalt parking lots will begin to crack and show age after a few years, especially when exposed to severe weather, heavy traffic, and overdoses of harsh sunlight. Planned preventative maintenance keeps parking lots looking great and saves money over the long haul by preserving the underlying substrate, thus delaying the costly capital expenditure associated with laying new asphalt.
Maintaining an asphalt parking lot is far less expensive than replacing one. Here are some tips for keeping it in good condition longer.
1. Ensure Proper Drainage
Excessive standing water isn't merely an annoyance to parking lot users—it takes a toll on asphalt parking lots and driveway surfaces. Standing water diminishes the life of pavement as it permeates tiny cracks in the surface. This weakens the pavement and shortens the life of the asphalt. Frequently check your lot, particularly after a heavy rain, to ensure the water is running off quickly. Unclog drains or contact an expert for a solution to ensure rainwater drains properly.
2. Check for Oil Stains
Clean and remove any noticeable oil leaks as soon as they appear. Since asphalt is made from a compound which includes recycled oil, when it comes into contact with oil, the mix ratio of that part of the asphalt is changed and becomes extremely soft. Once this occurs, even the slightest rain, snow, or abrasion will wear away the asphalt. Removing oil from your parking lot as it shows up is essential to longevity.
3. Keep It Clean
Frequent blowing and sweeping are necessary to keep the parking lot looking great. Set a regular schedule to ensure this job gets done. Regular cleaning can also help to retain the appearance longer as dirt and debris will continually accumulate. When grime remains on the surface, it begins to penetrate through tiny cracks in the asphalt. In time, the dirt becomes impossible to remove and accelerates the deterioration of the pavement.
4. Inspect for and Repair Cracks
According to the Colorado Asphalt Paving Association, detailed inspections and rejuvenation processes should occur annually to identify cracks that may have appeared unexpectedly. Inspect the lot and prepare to fill all cracks that may appear. If left alone, these cracks will expand as rainwater and grime penetrate the crack and create more significant problems. If the cracks are widespread, you should consult a professional to discuss the best solution. Any crack that is three inches in width must be patched immediately. A mastic repair is sufficient for smaller cracks.
5. Seal the Surface with Sealcoat
Every five years or sooner, depending on weather and use conditions, an aging asphalt parking lot may become riddled with cracks and holes. Or worse, its surface may become eroded, and much of its outer layer may become oxidized. The solution is to seal the entire parking lot or driveway with a high-quality sealcoat to rejuvenate the surface and prevent moisture from penetrating further into the material. Some of the most common sealcoats are derived from coal tar or asphalt emulsions. While these products get the job done, they are riddled with environmental hazards, including polycyclic aromatic hydrocarbons and volatile organic compounds. They are also known to fade from black after a season or two in the sun. A better option is a bio-based sealcoat from BioStripe®. This product, called BioSealcoat®, is produced from soybean oil rather than petroleum. Soybean oil is an entirely renewable and sustainable resource and helps to create a low-VOC, durable, and long-lasting sealant. Once BioSealcoat is applied, the parking lot or driveway will look new again and maintain its jet-black finish significantly longer than other sealcoats.
6. Use the Right Marking Paint
Standard parking lot striping or marking paints also release high levels of VOC emissions into the atmosphere. After sealcoating or an original paving job, BioStripe® marking paints, also made from soybean oil, provide a high-quality, long-lasting markings from a sustainable resource. Many universities and municipalities are using BioStripe® paint and BioSealcoat to further their sustainability initiatives. They find these products to be economical, easy to use, and high-performing.
Have you found ways to save your organization money with parking lot maintenance? Share your thoughts in the comments below!