How to Write an Effective "Green" Grant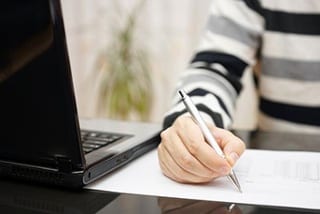 Funding from government and private grants fuels sustainability and environmental progress in the United States. Each year, the Environmental Protection Agency (EPA) alone awards over $4 billion in grants to support organizations to foster sustainable activity.
To create a greener environment, businesses and nonprofits must balance the ecological, social, and economic impacts of their decisions. For these organizations, financial constraints are often an obstacle to converting to cleaner energy, reducing waste, and diverting pollutants from the air and water systems.
Effective "Green" Grant writing has become essential.
Why Search for "Green" Grants?
Green grants are designed to support the education, implementation, and promotion of sustainable activities. Company and non-profit organization leaders are recognizing that success requires maintaining an image as a responsible member of the community. Public recognition of a company's commitment to social and environmental responsibility can be a powerful marketing tool and enhance the long-term viability of the enterprise. Grants can help facilitate an organization's sustainable aspirations by shouldering some of the financial burden that may be associated with projects.
Where Is the First Step?
Identifying the right grant for your organization's needs begins with thorough, targeted research. Applying for a grant that doesn't fit your project goal is a waste of time.
Almost any environmental-related idea has some private or governmental grant to potentially support it. Let's suppose an organization is hoping to refurbish or create a biking trail in Northern Ohio. Browsing "bike trails grants in northern Ohio" will yield a long list of advocates and grant opportunities. One of the first sites listed is the Ohio Bikeways website which links to American Trails funding and other resources. Here there is a full list of grant opportunities and resources that are specific to this issue.
National and State Departments of Natural Resources offer grants in the areas of forestry, mineral resources, oil and gas management, soil and water, parks and recreation, wildlife preservation, recycling and litter, and many more.
Any environmental initiative will have a grant somewhere to support it. Similarly, for specific green projects such as wind and solar power or waterway cleanup, an applicant can search a wide universe of financial opportunities.
Essentials of Grant Applications
Effective grant writing is an acquired skill and requires thoughtful research. One should understand that grants are highly competitive and the selection process is based upon how well the need is articulated. Explanations must be clearly written, realistic, and sharply focused on the intended outcome.
Here are some green grant writing suggestions:
Start with grants that are close to home that can best relate to your need.
State your objective in very specific terms.
Apply only for grants that meet your stated need.
Never over-exaggerate or shape your intent excessively to fit the grant's intention.
Contact the grant organization in advance by letter or phone to ensure the request is viable, understand any unique requirements, and to simply to call attention to the need before submitting a proposal. This can save time for both the grantor and the potential grantee.
Research the granting organization request for proposal. As much as possible, research each element of the grantor's approval process to ensure that all requirements are addressed in the proposal. Do not add extra fluff.
Supply specific metrics to be used to measure success.
Discretely appeal to a grantor's emotions when discussing the benefits of your proposal.
Look for someone with grant-writing experience to review before submitting.
Government and privately funded grant programs that subsidize conversion costs have been an integral part of the environment progress to date.
What's the most important part of sustainability grant writing? Share your opinion in the comments below!