How Higher Education Helps Shape the Future of Green Building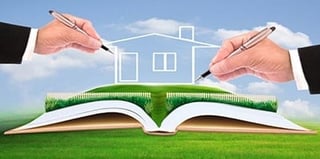 Universities have been at the forefront of sustainability initiatives for decades. Academics were among the first to recognize the damage that human involvement imposes on our planet and the potential devastating impact of pollution and the depletion of resources on future generations.
With direction from faculty and endorsement from university administration, students majoring in Sustainability, Environmental Studies, Urban Design and a wide range of other majors are engaged in ongoing projects intended to design and measure ecological improvements and best practices. In many instances, whole campuses are fully involved in creating a culture of sustainability among the student body, faculty and administration.
University projects, sometimes funded by private industry, transfer learnings to companies for product development that result in eco-friendly and sustainable solutions. To support these initiatives, facilities managers at many of the world's' colleges and universities have become committed to sustainable practices and products.
Global University Organizations
Around the world, universities have joined forces to create networks to share knowledge, best practices and educate others about sustainability. The US-based Association for the Advancement of Sustainability in Higher Education and Britain's Cambridge Sustainability Network and several other university groups have been formed to bring even more impetus to eco-friendly initiatives.
Higher Education Sustainability Initiatives
University of California
University of California Campuses were honored in 2015 with 13 Sustainability Best Practice Awards for projects directly targeted toward sustainability opportunities. Some of these student-supported initiatives included:
Installation of low-flow showerheads throughout the campus
Reduction of unnecessary lighting in dorms
Community gardens
Elimination of disposable utensils at campus events
In the field of sustainable building design, UC Berkeley's new Campbell Hall was honored for respecting historic environs in design while creating an LEED-certified structure. At UC San Diego, designers implemented a solar-powered energy system and open air ventilation in its LEED Platinum-rated Oceanography Building. UC Irvine achieved $125,000 in annual energy savings by replacing 32,000 fluorescent lights with LED replacements.
University of Michigan
University of Michigan students are currently focused on a four-pronged, student-run program to advance sustainability. The initiatives are:
Reusable Containers Program
Reusable Containers Program which discourages the use of one-time only cups at the student centers and cafeteria.
Bike Air Pumps and Fix-it Stations
Bike Air Pumps and Fix-it Station designed to encourage students and faculty to use bikes instead of gas-powered vehicles for travel around and near campus. This project is intended to enhance healthful advantages as well as sustainability improvements.
Sustainable Food Kiosk
Sustainable Food Kiosk introduces locally grown, organic and sustainable food products packaged only in recycled and recyclable materials.
Campus Farm
Campus Farm is being developed to produce a higher percentage of foods to be consumed by students. The crops will be grown with sustainable methods and the project is expected to be financially self-sufficient.
University of Massachusetts Amherst
University of Massachusetts Amherst, with support from Philips Lighting and NSTAR, is at the forefront of energy savings with LED lighting installation. By installing 1100 9.7-watt dimmable LED light bulbs and flood lamps, the University has saved over $12,000 in reduced energy costs. A 9.7 watt LED is the equivalent of a 60-70 watt incandescent light bulb and thereby uses substantially less energy.
Overall Impact of Higher Education Sustainability Projects
Nearly every university is involved in developing sustainability practices in some way. All projects, whether small or large, influence private industry in some way. Best practices discovered and savings achieved in these "laboratory" experiments are transferred into commercial practice by companies with the foresight to realize that their future depends on their ability to use and produce sustainable products.
While most of the world is a long way from achieving full sustainability, universities are approaching that objective at a rapid rate.