Renewable Parking Lot Sealcoating and Striping Paint Featured at AURI Parade of Roads Event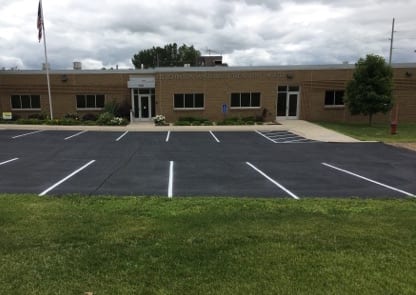 This July, public officials from around the Midwest came together at the City of Hutchinson's Parade of Roads event. Hosted by the Agricultural Utilization Research Institute and the Minnesota Soybean Research & Promotion Council, the event highlighted agriculture-based road preservation agents and maintenance materials. Among the products featured were BioSealcoat®, a sustainable parking lot sealcoating product made from soybean oil, and BioStripe®, an eco-friendly soy-based traffic paint.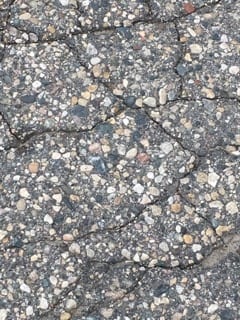 The products were used to resurface, seal, and stripe a large asphalt parking lot outside Hutchinson's wastewater treatment facility. Despite unseasonably cool temperatures and a light drizzle, the parking lot sealcoating application went smoothly and was ready for foot traffic and striping within a few hours. Jim Mickle of Minnesota Asphalt Maintenance, who has been using BioSealcoat in the Minneapolis-St. Paul area this season says, "BioSealcoat is a product that has great single coat coverage and dries faster than traditional asphalt emulsion sealers. These traits are allowing us to improve our production and work later into the day without worrying about a parking lot not drying overnight. These two things have improved our production by over 15%."
Along with these benefits, BioSealcoat is the only USDA Certified Biobased asphalt sealer, comprised of 38 percent biobased materials. BioSealcoat achieves this by utilizing natural soybean oil in favor of petroleum-based components in its formulation. "We are extremely excited to be working with a soy-based sealcoat that has the same benefits to our customers as traditional sealers and zero PAHs. This is the next evolution in asphalt maintenance," says Mickle. However, its upside is not limited to environmental advantages. Where traditional asphalt sealers are generally made from the leftover byproduct of industrial processes, BioSealcoat is specifically formulated to provide a long-lasting jet black finish and superior resistance to oil, gasoline, and other motor fluids. This results in less resealing and longer-lasting asphalt over time, which equates to huge savings on labor costs throughout the life of a parking lot, nature trail, or road.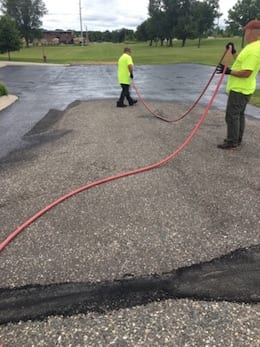 The City of Hutchinson is evaluating the asphalt sealer for use on parking lots and nearly 18 miles of biking and nature trails. In the Midwest especially, using agricultural feedstock in pavement maintenance systems could provide a significant boost to the economy. In 100 gallons of BioStripe paint alone there is soybean oil from 420 lbs of soybeans.
Randy Schwake of Angry Zebra Striping and Renewable Coating Solutions marked the parking stalls with BioStripe parking lot paint. Schwake has been using the product in the Minneapolis-St. Paul area for over a year now, and has seen some tangible benefits. "Right off the bat, what stands out is the lack of the harsh ammonia [and] solvent odor you get from most traffic paints. Once the paint is sprayed, I really like the bright, vivid colors, especially the brilliant white. It finishes as a very hard, durable film that does not mar or pick up much dirt. I've noticed less wear and tear on my Graco pump and can count on an easy cleanup. I like the idea of teaming it up with a product like BioSealcoat as a one-two punch for those doing what they can to keep the air and water clean!"
Learn more about our sustainable parking lot sealcoating and striping products in the video below.