Today's Influential Sustainability Voices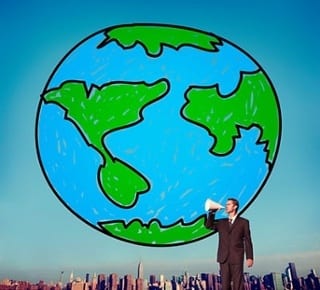 As the need for global sustainability becomes increasingly recognized, politicians, company leaders, community groups, and individuals are proudly announcing their commitment to protect the planet for future generations. This is particularly true as more organizations realize the economic and marketing benefits of using and producing sustainable products and energy sources. The trend has taken on considerable momentum.
The most influential voices for a more sustainable culture come from a wide diverse group of individuals, corporations, and disciplines.
Millennials
According to recent research by Cone Communications, the millennial demographic is the most committed group to sustainable corporate social responsibility. Indeed, the future is bright for halting and reversing some of the damning environmental effects of past centuries.
According to the study, millennials are more likely to:
pay more for products that are produced with sustainable materials by responsible companies,
tell others about socially responsible companies,
request information regarding a company's social responsibility and sustainable efforts.
Guardian (USA Edition): Most Influential Sustainability Voices in America
The Guardian produced a list of the 30 Most Influential Voices in America based on positive impact on sustainability through social media. The top 5 on their list are:
Bill McKibben: founder of 350.org, author and educator
David Jones: CEO of Havas, author, and co-founder of One Young World
Clayton Christensen: Professor at Harvard University, author
Simon Mainwaring: author of the best seller, "We First" and founder of the social branding firm of the same name
Susan McPherson: Senior VP at Fenton, promoter of the business community as the driver for sustainability for good
Forbes List of 500 Most Sustainable Companies
In 2015, Forbes reported Corporate Knight's list of the world's 50 most sustainable companies. Among companies with a market cap exceeding $2 billion, the list is a result of analyses of companies that make the best use of their resources while maximizing financial and employee performance. The rating is achieved by evaluating 12 performance indicators. For resource management, the judges compare the uses of energy, emissions, water use, and waste generated. Holistically, the survey also measures financial and overall company sustainability when evaluating employee performance, diversity, and turnover, along with profitability and management practices.
Some of the companies that scored highest include:
Biogen Idec: Massachusetts-based producer of treatments for autoimmune and neurodegenerative diseases
Allergen: U.S. pharmaceutical giant, producer of Botox.
Adidas: German maker of sports apparel.
Keppel Land: Singapore real estate development and management firm.
Kesko: superstore operator based in Finland.
With any social change, certain highly motivated individuals play a critical role in spreading the word and hammering home the importance of environmental preservation. This has certainly been the case on the sustainability front.
Who's your influential sustainability voice? Share your thoughts in the comments!