A Guide to Road Marking Paint Selection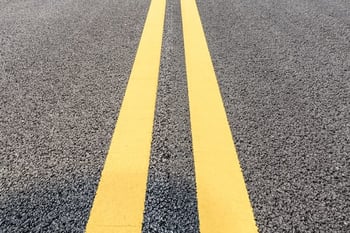 Road marking—also known as line marking—refers to the application of paints and other high-visibility materials on roads, highways, runways, and other vehicle and pedestrian pathways to communicate important information. While the standardized system of colors, lines, and symbols employed can vary depending on the current federal and state guidelines, the underlying goal is always the same - ensuring the safety of the users (e.g., drivers, bikers, and walkers).
There are many types of road marking paints available, each of which offers unique characteristics that make it suitable for different purposes. Below we discuss the various paint classifications and how to choose the right one for a road marking project.
Types of Road Marking Paint
As indicated above, road marking paint comes in several variations, which differ in regard to formulation and performance. Some of the types available include:
Water-based paints: Water-based paints serve as durable and reliable traffic paint solutions with smaller environmental footprints. They can contain a variety of materials, with the polymer binder usually being an acrylic latex.
Solvent-based paints: Solvent-based paints—also known as oil-based paint—contain greater quantities of organic compounds than water-based compounds. This can allow for faster drying times that aren't effected as much with temperature and humidity, like water-based coating are. They can be made from plant-based alkyd, synthetic acrylic, and other similar polymer materials.
Two-component paints: As suggested by the name, two-component paints consist of two separate components (a polymer base and a curing agent). Combining them results in a chemical reaction that facilitates the drying of the paint. This chemical reaction is also not effected as much with temperature and humidity.
Low VOC solvent-based paints: Low volatile organic compound (VOC) solvent-based paints utilize solvents, predominantly acetone. The EPA has classified acetone to be exempt from detrimentally effecting the VOC of the coating. This allows for the use of a solvent-based coating where a water-based coating was previously needed to meet low VOC requirements.
Biorenewable paints: Biorenewable paints have formulations with significant quantities of biorenewable material, which makes them a more eco-friendly and sustainable road marking option. The first biorenewable road paint was Biostripe®, which continues to be a popular choice in VOC-restricted areas due to its longevity.
Key Selection Considerations for Road Marking Paint
When choosing a paint for road marking project, there are several factors to keep in mind, such as:
State and national regulations. As mentioned above, the regulations surrounding road marking can vary from country to country and state to state, with some state rules being more strict than federal rules. One of the factors affected by both state and federal requirements and restrictions is the VOC content of the paint; in the United States, national road marking standards call for formulations with less than or equal to 150 g/l of VOC, while some states (e.g., California) demand paints with even smaller quantities of VOC. Check out this map for additional information about state VOC limitations.
Location. Guidelines for road markings can also differ depending on where the markings will be placed (e.g., road vs. parking lot vs. airport runway). For example, high-traffic areas (e.g., parking lots) require paints that demonstrate high durability and longevity, while areas that require high visibility (e.g., airport runways) need paints with high reflectivity.
Environmental conditions. The conditions to which road markings will be subjected affect how long they will last. For example, water-based paints are generally unsuitable for environments with high moisture content, while paints with high-quality pigments are ideal for environments with high concentrations of UV light.
Road Marking Paints From Aexcel
Aexcel is an industry-leading provider of high-performance coatings and paints. For road marking applications, our product offerings include:
For more information about our road marking products or assistance choosing one for your needs, contact our team today.