5 Reasons Your Coating May Be Wrong for Your Products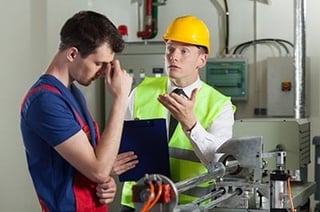 Many manufacturers expect the same results their industrial coatings have historically given, without ever questioning if the coating is right for the job. The story manufacturers usually have is always the same: they started using a standardized coating from the market years ago and they believe that there may not be alternatives, but reality says they can.
With chemistry and technology evolving each day, a number of new properties are available to make industrial coatings work in more advanced ways than ever before. Let's dive in and explore five reasons your coating may be wrong for your products.
1. Coating Required Cure Time
Considering the location of the painting process in a facility makes a difference in the coating's required cure time. For example, in an industrial environment, manufacturers may experience the following:
Run slower line speeds to allow time for the coating to cure
Require higher temperatures within the shop to cure coating
Need fans in place to cure coatings prior to packaging
These experiences are all avoidable with the correct coating for a product line. Manufacturers often run into unnecessary expenses involving production factors like higher heating bills, increased capital expenditures and a longer manufacturing process.
2. Creation of Access Rework or Scrap
When produced parts continually do not meet spec, manufacturers put them into scrap. But by changing the industrial coating used, rework or scrap is addressed.
Many times, the application of a coating has been changed over time for a variety of reasons such as lowering the film thickness, overcoming the change in pretreatment or changing the material. Line speed and application equipment also change without the consideration of allowing the paint to change with all of the other changing circumstances.
3. Requiring too Much Material
An abundance of coating or too many processes is not the way to make a coating work. As a manufacturer, ask yourself the questions:
Does coating my products require multiple coats?
Does coating my product lines require an aspect of surface preparation in between coats?
Do I always experience multiple extended cure times? (e.g. primer before clear coat)
Manufacturers often think that these types of situations are normal in the industry and just another part of their production process. But these obstacles may be overcome with an all in one coating!
4. Using a Product that is Over-Engineered
When manufacturers use a coating that is over-engineered, properties are delivered to the product that are of no value to the customer or their customers (end user). For example, a manufacturing company may be accustomed to using a coating that can withstand 1000 hours in salt spray environment but their parts are never exposed to that type environment in the field. Or they have used a coating with marker, solvent, or acid resistance but the parts never come into contact with these materials. Why? The answer is simple; manufacturers have used the same coating year-after-year for their product lines, not realizing that there are more cost effective options available. Using a product that's over-engineered is like paying for a gym membership and never using it. Even coatings can have options attached that may be unnecessary and even more importantly not needed.
5. Using a Product that is Under-Engineered
On the other hand, manufacturers who use a product that is under engineered, expect the performance the coating provides without ever questioning its capabilities, which compromises quality and service. Manufacturers may have never investigated alternatives available. For example, if a product expectation is to provide chemical resistance and their product doesn't have the resistance they're looking for, they started using a standardized coating on market that is under-engineered. Each and every attribute of a coating can be changed to positively reflect your individual wishes and expectations.
Technological capabilities in the coatings industry change with time. Industrial coatings are more advanced than they were ten years ago. If manufacturers consider the reasons above, they can determine the ideal coating perfect for their product lines.
After reading the five reasons above, why may your current coating be incorrect for your products? Share your thoughts below!