5 Things You Should Expect From Your Coatings Supplier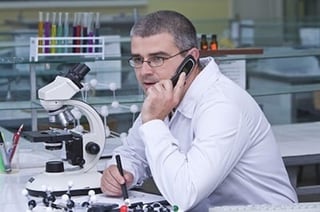 Your coating supplier should take your business seriously. Do you need specialized service attention? Ideally, your coatings supplier should be going above and beyond to meet your specific needs. Your supplier is an important partner to help meet your revenue and growth goals. The best coatings suppliers assist manufacturers by providing superior coatings and tech service for each product line and process.
Custom formulators and their technical support staff are people you count on for a level of service and expertise you may not get when buying off the shelf options from larger vendors.
1. Attention to Technical Needs
Let's face it, every manufacturer comes across coating process issues from time to time. Whether the problem arises because of customer requests, factory application equipment, operator, or process changes, manufacturers need their coatings supplier to respond to their urgencies. A top-level coatings supplier should respond to their customer's changing business and technical needs in a professional and timely manner.
For example, it is common for manufacturers to need a quick response from the coatings supplier to supply a trial sample, or make a specification adjustment, or even to develop a new color. Manufacturers do not have time to chase down a supplier and play phone tag. Instead, coating suppliers should be quick and efficient in responding to their customers' issues.
2. Laboratory Resources Available
When manufacturers work with larger national coatings suppliers, they may struggle to receive on-site assistance from the supplier's laboratory. A coating supplier in tune with its customers will make lab resources available as needed. This allows the production process to run much more smoothly. Examples of resources that coatings suppliers should have available are:
Capability to develop and implement standard and creative tests
Capability to audit the process for efficiency improvements
Personnel familiar with the variety of application equipment
Personnel familiar with plant operating conditions
Lab and technical ability to simulate end user conditions
Lab and technical ability to simulate different types of environments
Representatives who know and respect your staff
Suggestions to keep products and services competitive
Coating suppliers have years of experience in their plants, and especially in their labs. Why not use that capability to your advantage?
3. Ease of Doing Business
Coatings suppliers should make doing business as simple as possible. That way, manufacturers can focus on keeping product lines running. Set your own production timeline without worrying about coatings issues. An easy-to-do business coatings supplier should always provide:
Accurately processed orders
Timely shipments
Paperwork handled
Special orders and responsiveness
Flexibility to adapt the coating formulation
Regulatory support
Safety and operational support
Partnership in training and quality methods
Announce and respond to current and forecasted industry trends
Take a minute to step back and look at these items and ask yourself the question: Does your current coatings supplier provide these necessary elements for you?
4. Environmental Expertise
When it comes to environmental expertise, your coatings supplier should understand the various governmental regulations, including federal, state and local. This way, your coatings are developed according to quality, spec, and the law. The following capabilities are essential to your manufacturing success:
Proper labeling
Flexibility in communication through label instructions
Proper safety data information
Proper DOT and shipment paperwork
Well-controlled storage conditions, dispensing and housekeeping
Proper training in PPE (Personal Protective Equipment)
Proper disposal of excess materials, and empty containers
The ability to help you keep your facilities, customers and employees safe and beyond compliance.
An example in this category includes custom labels. Depending on where the end product is being used or sold, there may be unique labeling requirements in order to be in compliance with government regulations. Your coatings supplier should take care of this necessity, without hassle or headaches added to the process.
5. Flexibility & Creativity
Think about all the different things you do to help your customers solve their issues. You should expect no less flexibility and creativity from your coating supplier. You should expect your coating supplier to anticipate and meet your product and business needs. Your coatings supplier should be willing to think outside of the box to discover creative solutions for your specific product lines.
In the end, every manufacturer strives toward creating efficient output and higher ROI. These five items are suggested as a start to furthering your company's success.

What else should you expect from your coatings supplier? Please feel free to share your thoughts with us in the comments below!