Customized Coatings vs. Off the Shelf Coatings Part 1
Learn Why Customized Formulations Provide Benefits to Manufacturers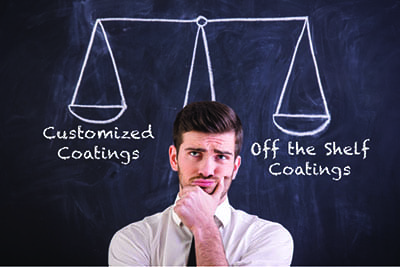 Off the shelf coatings are often supplied to manufacturers by larger coatings companies. These products simplify the coatings producer's distribution and service requirements. The trouble is, your needs may call for something more tailored to your operation or your end customer's performance expectations. If you have been using the same, standard, off the shelf coating for years, it might be time to investigate the advantages of custom coatings.
Depending on the degree of specialty development required, you might just find a specialty coatings supplier can handle your specific coatings needs with an improvement in overall economic benefit. So, let's take a look!
Off the Shelf Coatings
Off the shelf coatings can be purchased in ranges from small amounts to bulk, from some suppliers. Five items that help define "off the shelf" are:
The coating has already been developed; sometimes for a use unrelated to yours
The coating meets parameters defined by the producer for wide use
The coatings application process is constrained by the product's established qualities
The coating has been proven over long use, though it may not be fully up to date
The coating usage, application and testing recommendations are often generic, and may be insufficient for your customer's ever-changing requirements.
Customized Coatings
With custom solutions, your production and technical experts collaborate with coatings formulation experts to determine the best formula for your process and product end use. In doing so, the experts discuss items like:
The substrate the coating is being applied to
What are the characteristics of this base material?
What is the function of the part or surface to be coated?
What production steps precede the coating application?
How will the coating be applied; spray, dip, flow, roll, etc.
What production steps follow the coating application?
Can the coating be tailored in a way to avoid major changes to the production line?
What regulatory constraints should be understood?
What kinds of quality assurance requirements are expected?
After coating, what kind of handling, transport and storage conditions will occur?
What are the performance expectations of the end user of the product?
With a customized coating, you can raise process throughput and final product performance beyond standard coatings. The economic benefits are quite tangible. Reduced costs, increased output, and improved process efficiency are primary objectives of the collaborating experts. The goal of custom coatings is to fine tune the coating and application for your production operation.
The Main Differences
A quick costs and benefits analysis displayed in a table helps visualize the differences between these two types of coatings:
| | | | |
| --- | --- | --- | --- |
| | Off the Shelf Coating | Custom Coating | Common Example |
| Customer Criteria | A standard set of criteria are already developed for the formula, some criteria required by your customer may not be met | Custom formulations allow you to meet all customer-specified criteria for a particular product line | Your customer's needs can change over time, in ways different than others using the standard product. |
| Performance Requirements | Cannot be altered to match your unique process line and customer needs. | A custom coating can be formulated to special requirements | High performance requirements often require specialized products |
| VOC Requirements | Predetermined by product formulators, often without attention to local rules, uses or specifications | Custom coatings can be formulated to VOC requirements based on region, state laws and your in-house needs | Formulators manage polymer balances, pigments and solvent blends to achieve desirable results while reducing VOCs |
| Equipment | Application equipment selection and process line setup are constrained by the coating to be used | Custom formulation allows for specialized or unique equipment and process arrangements | Your application lines can be adapted to meet new internal or customer specs |
Next, read part 2 in our series of customized coatings vs. off the shelf coatings.
Do you have any insight to add to the information above? Why would you consider using a custom coating vs. an off the shelf product? Please feel free to share your thoughts with us in the comments below!