Clever Formulation Solves Metallic Coating Settling Issue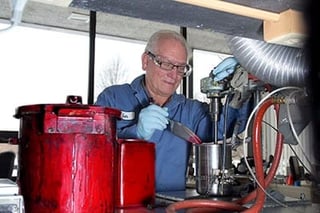 Aexcel Corporation's customer repackages a specialized metallic coating, formulated for rust and corrosion prevention. The customer was quite frustrated in handling, transferring and using this material, as sourced from their previous vendor. They partnered with Aexcel to find a way to simplify the use of this product.
The Product
The coating is formulated for superior rust and corrosion preventative properties. It is generally spray or brush-applied to steel, often in the field at construction projects. The product contains specialty metallic powders and other rust-inhibiting ingredients. These specialty ingredients are quite heavy in comparison to the other materials in the coating mixture.
The Problem
In the prior formulation, during shipping and storage, normal gravity would draw the heavy metallic ingredients out of solution, where they settled on the bottom of the container. After the metals had settled, the product could not be repackaged without difficult and time-consuming re-blending. This was unproductive, and unsatisfactorily addressed by the prior vendor.
Furthermore, this settling condition, which was hard enough to manage under normal handling and storage, was made substantially worse during extended shipment. The vibrations and jolts of long-distance delivery shook the mixture, causing settling to occur much faster than by simple gravity.
The Solution
Aexcel was approached to offer an alternative. The objective was to produce a custom coating mixture that would need no more special treatment than the simple mixing that is expected before the use of any paint or coating.
Aexcel's experienced chemists conceived a combination of highly creative formulating, compounding, and packaging innovations that totally solved this problem.
Now, the customer is able to use the material directly from the shipping container, after normal mixing for just a few minutes, following standard coatings-use mixing practices.