Attention Manufacturers: Could Your Business Benefit From Using a Custom Soft-Feel Coating?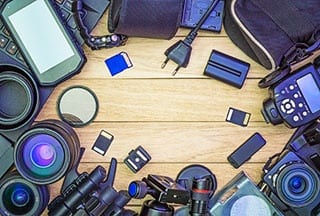 Manufacturers have learned to create a sense of high-quality—and even luxury—in their products by adding a soft-feel coating to plastic, metal, and other surfaces. These coatings can be formulated to feel rubbery, velvety, leathery, and nearly anything in-between, to differentiate products from the competition.
Soft-feel products have gained popularity with consumers for their aesthetics. While manufacturers appreciate this enhanced customer experience, they also value the superior performance attributes soft-feel coatings provide. Soft-feel coatings exhibit excellent:
Durability
Mar Resistance
Dust Resistance
Adhesion
Chemical Resistance
Slip Resistance
Solving Production Challenges with Aexcel's Custom Soft-Feel Coatings
Looking to cut material costs without sacrificing performance? Component parts from less expensive materials can be coated with soft-feel coatings to bolster performance and durability while enhancing the product's appearance.
Aexcel's first venture into soft-feel coatings was Aquacel 2000® Soft-Touch High-Performance Polyurethane Coating. This soft-feel coating was formulated to give laptop cases a more velvety texture while improving durability, but could also be applied to cellphone cases, office supplies, tools, home appliances, electronic devices, and packaging. Aexcel can formulate custom soft-feel coatings utilizing a multitude of chemistries to accommodate your product and manufacturing needs, including:
2 component polyurethane solvent based soft-feel coatings
Air dry and force dry formulations
1 or 2 component polyurethane water based soft-feel coatings
For technical directors and operations managers, a well-designed custom, high-quality soft-feel coating can speed production and increase throughput. Since soft-feel coatings can often be applied at a much thinner film thickness (1.5-2 dry mils) than traditional coatings, they can be applied quickly and require shorter cure times. This allows products to get off paint lines and into further processing, resulting in reduced work-in-process inventory.
Work with Your Coatings Supplier
Successful products differentiate themselves from the competition. Giving your products a luxurious finish with a soft-touch coating can make them stand out to consumers. Soft-feel coatings can provide a wide range of surface effects to help your products provide a superior customer experience.
Your coatings supplier should be a willing partner when it comes to product innovation. Successful innovation often evolves from strategic collaboration with your supply chain.
Are you using the right soft-feel coating for your products? Thinking about adding a soft-feel product line to your current offering? Share your thoughts in the comments!