Our Sustainable Asphalt Resurfacer for Driveways Available On Lowes.com
We are offering our eco-friendly asphalt resurfacer to customers online through a partnership with Lowe's. BioSealSafe™ is the safer way to rejuvenate and seal your driveway. Stop using outdated dangerous chemicals to seal your driveway. Protect your driveway and your family with BioSealSafe™.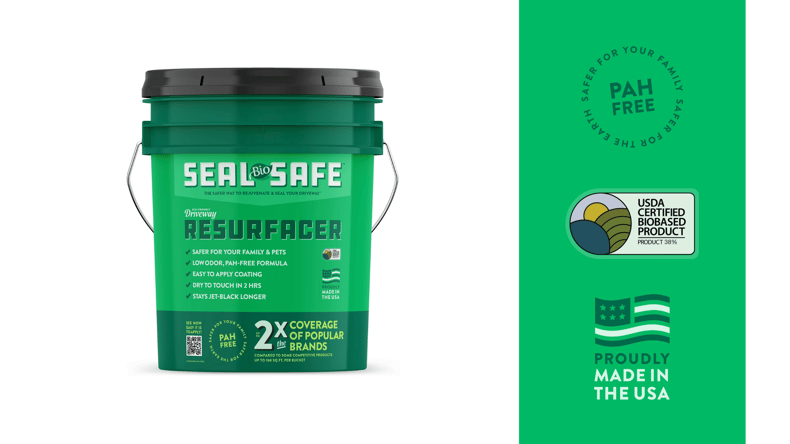 Our sustainable driveway resurfacer is:
Safer for your family & pets
Low-odor, PAH-free formula
Easy to apply
Dry to the touch in 2 hours
Stays jet-black longer
Resistant to automotive fluids
UV resistant by using UV stable colorants
One bucket with one coat is up to 760 sq. ft.*
(*Note: If your driveway is relatively smooth with minor cracking, you may only need one coat. If your driveway is more rough or porous, two coats may be required for maximum protection.)
You can find our product now on Lowes.com to help resurface your driveway by clicking or tapping below:
Our Safety Data Sheet for the resurfacer is available here. See how easy it is to apply with our step-by-step process.
Sustainable Paint and Sealcoat For Your Needs
Aexcel is an industry-leading provider of tough, high-performance coatings and paints. We spent years researching and developing traffic paint and sealcoat made from a renewable resource:
Whether you're a distributor looking to serve your marketplace better, a municipality hoping to reseal your roads and parking lots with less frequency, or a sealing contractor aiming to minimize paint failures and rework, Aexcel is ready to help you achieve your goals. Contact our team today about your next project.