Shipping: Questions to Anticipate When Ordering
We have seen a lot in our 50+ years in the paint and coatings industry. We have dealt with hundreds of (or more!) shipping and receiving issues, timeframe challenges, storage requirements, and product damage situations. We have experience with a wide variety of unique customer needs.
It is essential to think ahead about shipping requirements and constraints when you place your order. Our team has provided questions to consider in your ordering and receiving process.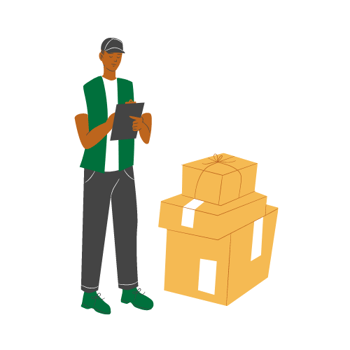 Do you have a dock? How about a forklift?
The paint is heavy! Usually, the product arrives on a pallet. Do you (or does your customer) have a dock to receive products? A dock and a forklift ought to be available. If not, you will need to consider other options. Examples of alternatives include lift gate service, flatbed, van shipment, pallet jack, and driver assistance.
Will the weather matter?
Sometimes, the weather can become a constraint. For instance, we want to avoid any issues with water-based paints when delivered in freezing temperatures. Is the storage location appropriate?
Have you provided the correct contact info?
Ensure the correct contact person is a part of the shipping process, right up to when you receive the product. Also, be sure to double-check the address and phone number. Our shipping and your receiving personnel will be able to contact each other effectively in case of issues that might arise.
Are there specified delivery hours?
If you or your customer can receive it only during specific times, make sure to note it in the shipping instructions. This information allows product delivery without delays, issues, confusion, or damage. Damage? Yes, if the product has to return to a warehouse, the extra loading and unloading lead to opportunities for damaged goods.
Is a delivery appointment required?
Do you need a formal delivery appointment? It is essential to provide in the shipping instructions. We are aiming to provide on-time delivery. We wish to avoid the dreaded "return to warehouse" mentioned above.
Limited Access?
Is the delivery location "limited access?" In some areas, you will need to give advanced notice before delivery. Examples are airports, government facilities, hospitals, inspection sites, malls, military bases, parks, schools, utility sites, and construction sites. Special requirements should be well-understood at the time of arranging the delivery. The receiver has to be able to unload without inconvenience.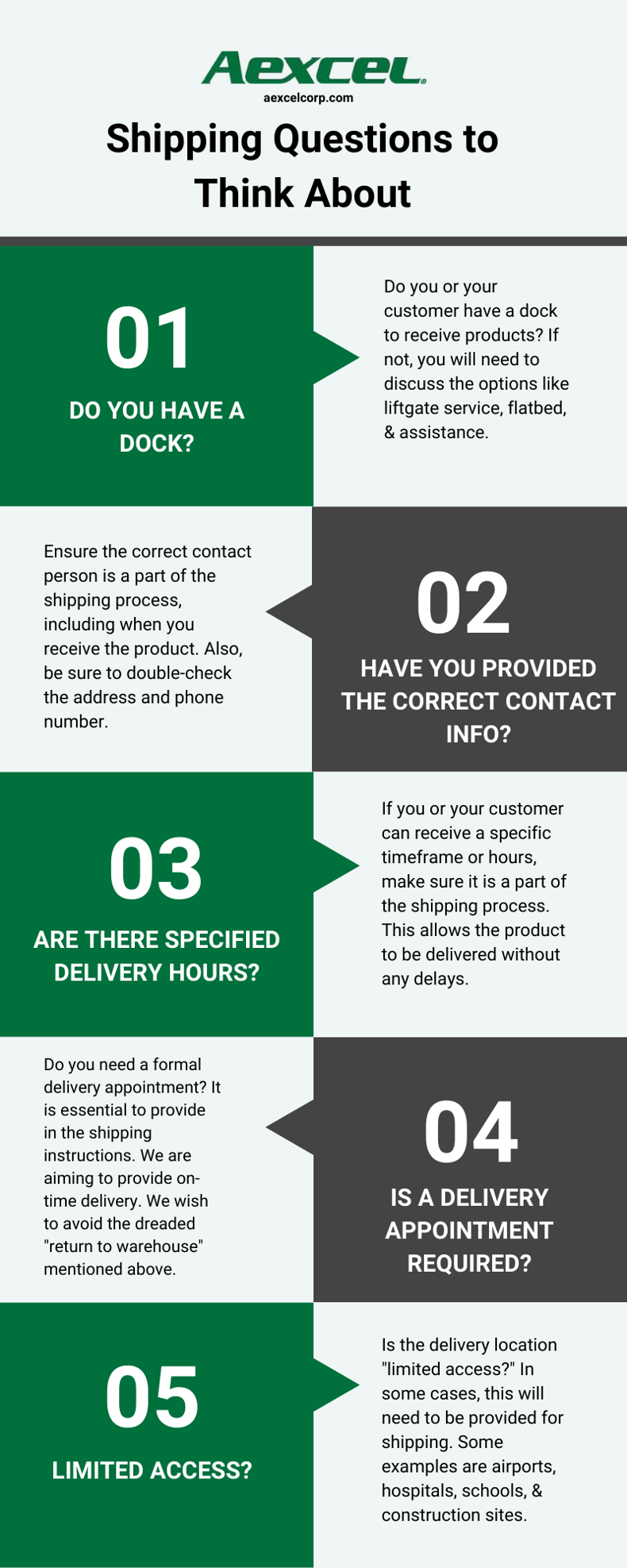 (click on the infographic to view it)
---
Contact Aexcel for Custom Industrial Paint and Coating Solutions
At Aexcel Corporation, we supply custom coatings and paints for a wide range of industries and applications. We offer custom formulation, toll manufacturing, and private label manufacturing services, which, combined with our extensive experience and state-of-the-art production equipment, enable us to provide appropriate solutions for various customer needs. Contact us to learn more about our paint and coating offerings and how they benefit you.